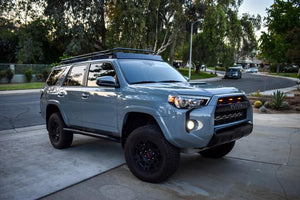 Top 5 Most Affordable 4Runner Mods
This post may contain affiliate links. Please see our Privacy Policy for more information.
The Top 5 Most Affordable Mods for your new Toyota 4Runner 5th Gen. This list includes some of the most common and most affordable ways to customize your Toyota 4Runner.
Our List of the 5 Most Affordable 4Runner Mods
Vehicle modification on the Toyota 4Runner can include a wide variety of parts, from interior modifications to wheels and suspension all the way to body armor. These modifications can quickly add up and put a large dent in your wallet. We put this handy guide together to help people find some of the more affordable Toyota 4Runner Mods and aftermarket parts available. Most of the time, these are purchases people make when they first purchase their vehicle because these are more low spend items that don't require you to visit your local shop for service and installation.
#1 Blackout Emblem Kit
Traditionally, the Toyota 4Runner comes from the dealer with Chrome emblems. Manufacturers like Jeep and Dodge are starting to catch on to the trend that vehicle owners like the blacked-out emblem look, but unfortunately, Toyota still hasn't caught onto that trend. Thankfully, there is a simple solution to blackout your 4Runner Emblems with kits directly available from Toyota and others. The most popular Black Out Emblem Kits are made of plastic that mounts on top of your current emblem using 3M Double Sided Tape. All you have to do is clean your emblems with a rag and remove the sticker from the double-sided tape and stick on. An easy and simple mod to give your 4Runner the aggressive blacked-out logo look! The kits are available for purchase and in a variety of combinations for the SR5 and Off-Road vehicle trims.
Click Here to Buy the 4Runner Blackout Emblem Kit
You can read a review on the Nox Lux Blackout Emblem kit over on ScoutOfMind.com here.
#2 TRD PRO Style Grille
With the newly available options out there, it's now easier than ever to upgrade your 5th Gen 4Runner's front end to the TRD PRO style "heritage grille." The TRD PRO grille is different than the traditional Toyota "logo" grille that comes on the non-PRO models, including the SR5, Sport, and Off-Road models. On those models, you'll likely have the Toyota logo in the center of the upper portion of the grille. The PRO style grille is much sleeker and provides your vehicle with a more aggressive front end look. It also allows you to install Raptor Lights in the top row - 3 or 4 LEDs when the other style grille cannot accommodate them.
Click Here to Buy a 4Runner TRD PRO Grille
Please note: There are two different kits for the 2014-19, and 2020+ 4Runner Grilles. Both are available for purchase on our website.

#3 LED Headlights
One of the most lacking aspects of the Toyota 4Runner 5th gen is the halogen headlights that it comes with from the factory. This day and age most vehicles already come with LED or Xenon Headlights straight from the factory. The halogen headlights on the 4Runner are not very bright and are worth upgrading. For between $50 to $100 you can add a nice set of LED Headlights to your 4Runner that really help light up the road. Not only do these brighter lights look better, but they help keep you a little bit safer.
We suggest the Alla Combo Headlight package - for under $90 you can replace both your low beams and high beams to high quality LED lights.
Click here to Buy the Alla Combo LED Headlight Combo Package
#4 Vehicle Organizational Items
The great thing about the Toyota 4Runner is the amount of space you have in the vehicle. Unfortunately, this space isn't totally managed in the best possible space. On the bright side, this gives you the freedom to deck out your 4Runner to your specific needs and uses. There are some great accessories out there to help better manage the space in your vehicle.
Based on your needs, the few items I'd recommend are the Vehicle OCD Center Console Storage Organizer, Center Console Tray, Glove Box Organizer, and Cargo Space Trunk Organizer or Cargo Net. If you really need more space management, check out the Salex Roof Annex, that turns your roof into its own little annex space for extra storage. All of these accessories range in price from $20 to $100 depending on what you need.
Read more about the Vehicle OCD Products on ScoutOfMind.com
#5 YotaLeds.com Amber LED Wiring Harness
Yota Leds plug and play 4Runner Grille Lights are a great accessory option for your Toyota 4Runner for many reasons. First, it's a mod that looks great regardless of what stage in your build you are at. It looks awesome on a fully modded adventure vehicle, down to a brand new SR5 straight off the dealer lot. 
Click here to shop our collection of 4Runner Raptor Lights
Please note: All kits are "grille specific" meaning they are made for the exact grille application shown in each photo. If you have any questions on compatibility, the best way is to take a look at your 4Runner and match the grille style to what's shown online.
BONUS ITEMS!
We know it can be difficult to limit it to just 5 items when it comes to your 4Runner modification. Check out our 'Bonus List' of some of the other most common 4Runner modifications - all affordable and quick and easy to install!
4Runner Rear Hatch Liftgate Strap
Our 4Runner Liftgate Pull Strap adds an extra 1″ to the OEM Toyota strap length, great for lifted vehicles or those who need extra help reaching. The straps are available in a variety of colors to customize your vehicle, with colors specifically chosen to match Toyota's TRD line-up. The laser-cut mounting plate is black-plated and a direct OEM fit for a perfect installation.
4Runner Rear Window Flag Deal
This is another super common, 4Runner favorite. Show your patriotism with a rear window flag decal. There are also other decal design options available, with forest and mountain themes, state flags, and more!
4Runner Grille Badge
The grille badge is a relatively new product, first made popular on Instagram. These badges mount easily into the grille of the 4Runner (also universal with Tacoma) and come in a variety of color schemes to match your vehicle or theme. My personal favorite is the Toyota tri-color heritage theme, showing the retro race colors of the Toyota brand.
All Weather Floormats
If your vehicle still has the factory carpet floor mats, all-weather liners are a must-have! Protect your carpet and interior against the winter weather and any of your 4Runner adventures. This makes clean up SO much easier after a weekend of exploration. Great for sand after beach trips and more!
Interior LED Lightbulbs
Interior LED bulbs are a nice and affordable way to "modernize" the look inside your vehicle. The clean, bright, white shine from the LEDs helps illuminate the inside while looking much more modern than a traditional halogen bulb. I'm still surprised when vehicles don't come from the factory with interior LEDs - this is an area Toyota should look to improve on for future years.
Center Console & Cup Holder Inserts
For me, keeping my vehicle in good condition is always a priority. It's a fine line between worrying about everyday wear and being able to just enjoy your vehicle for what it's made for - exploration and adventure! I'm all about the accessories and products that help maintain the original condition of your ride. These center console and cupholder inserts help keep your vehicle clean and make it much easier to clean up after any mishaps or accidents that may happen along the way.
4Runner Blackout LED Taillights
There's nothing like that "blacked out" look when it comes to our 4Runners. There are lots of great plug-and-play options for taillight assembly's to give your 4Runner a more unique and custom look. This option from Longding has sequential turn signals and a cool animation light when you start up your vehicle. 
4Runner LED Fog Light "Fangs" 
These daytime running lights are made to replace the OEM fog light bezel on your 4Runner front bumper. When installed, these plug-and-play replacements add a cool LED "fang" around the fog light. They can be wired to run with your day time running lights, or can be installed to work with your sequential turn signals.
---