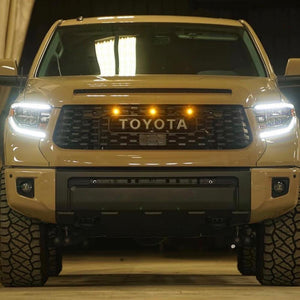 The Complete Guide to Tundra LED Grille "Raptor" Lights
LED Grille lights, or "Raptor Lights" as they are commonly referred to are small marker lights that are installed in or around the grille portion of your vehicle. This is a very common aftermarket add-on for full-sized trucks like the Toyota Tundra. 
Tundra LED Grille Lights
Here at Yota Leds we offer three different sets of LED Grille Lights for the 3rd Gen Toyota Tundra. All of the kits are offer are "grille-specific" meaning that they are designed specifically for each OEM grille style offered by Toyota. Our LED Grille Light sets come with a complete plug-and-play wiring harness and custom laser cut brackets made to install directly into the different slots in your Tundra's grille. They install via an add-a-fuse into your engine bay fuse box that can be tapped into different fuse slots like the INJ, Headlight fuse, etc. Depending on where you install the add-a-fuse is how the lights will be controlled - for example using the INJ slot means that the grille lights turn on with the ignition of the vehicle, using the headlight slot means that the grille lights turn on with the headlights. 
3rd Gen (2014-2021) Toyota Tundra LED Grille Light Options
Please reference the photos below to identify the different grille styles offered on the Toyota Tundra. Please note, there are some grilles that are not compatible and not currently offered in our product catalog. 
2014-2017 Toyota Tundra TRD PRO
The 2014-17 TRD PRO Tundra's came from the factory with the grille shown below. This "Heritage" style is identified with the traditional TOYOTA lettering on the front of the grille, and has long horizontal slots where the brackets sit on top of the grille and are held in place securely with a bolt and washer behind the LED.
Click Here to Buy a 14-17 Tundra TRD PRO Grille Light Set 
2018-2021 Toyota Tundra TRD PRO
In 2018, Toyota updated the look of the Tundra grille to be more in line with the TRD PRO style look of the Tacoma. This grille has smaller rectangular slots but still features the traditional TOYOTA lettering on the front of the grille. 
Click Here to Buy a 18-21 Tundra TRD PRO Grille Light Set 
2014-2021 Toyota Tundra SR5/Sport
We refer to this style Tundra grille as the "honeycomb" grille. These slots are slightly smaller than the 18-21 Tundra TRD PRO grille slots, and the color of the grille itself is also more of a grey vs the black as seen on the TRD PRO style grilles. 
Click Here to Buy a 14-21 SR5/Sport Tundra Grille Light Set 
How to Install Tundra LED Grille Lights?
Tundra LED Grille Lights are super easy to install, most installations take 30 minutes or less. However, if you are not comfortable with basic electric wiring we always suggest visiting your local mechanic for help. 
Click Here for our Tundra Installation Guide 
Using a Switch - Is it Necessary?
As mentioned above, our wiring harness can be installed via an add-a-fuse to tap into a current fuse on your vehicle. However, we also offer an optional Grille Lights switch that can be installed into the OEM switch slots on the dash of your Toyota Tundra. This is a universal switch that can be added to work with any type of accessory lighting or wiring harnesses installed on your vehicle. Using the switch allows you to control your grille lights with an easy on/off button on your dash. 
Looking for More Lights? 
We've had lots of people asking about customizing grille lights - whether that's using a mix of white and amber bulb colors or installing additional lights in your grille. Luckily, the slots on the Tundra grilles are modular, meaning that the brackets will work in different installation configurations. We offer all of our brackets online individually for purchase as well as individual bulbs. These can be purchased and sliced into our 3-piece light sets for additional customization.
---